2022 Volkswagen Taos Vs. 2021 Volkswagen Tiguan

2022 Volkswagen Taos Vs. 2021 Volkswagen Tiguan
Volkswagen has recently announced a new SUV to be added to its lineup: the Volkswagen Taos. Alongside the Volkswagen Atlas, Volkswagen Atlas Cross Sport, Volkswagen Tiguan, and new Volkswagen ID.4, that brings the total current number of VW SUV models up to five.
The Volkswagen Taos is classed as a compact SUV, just like the Volkswagen Tiguan. So that brings us to the question: what's the difference between the VW Taos and the VW Tiguan?
View Our New Volkswagen SUV Inventory
Volkswagen has stated that the Taos will slot underneath the Tiguan in a similar manner to how the Atlas Cross Sport slots underneath the Atlas. Whereas the Tiguan can be outfitted to seat either five or seven individuals, the Taos will only seat five. The Taos will correspondingly be smaller in size and start at a lower price point than the Tiguan.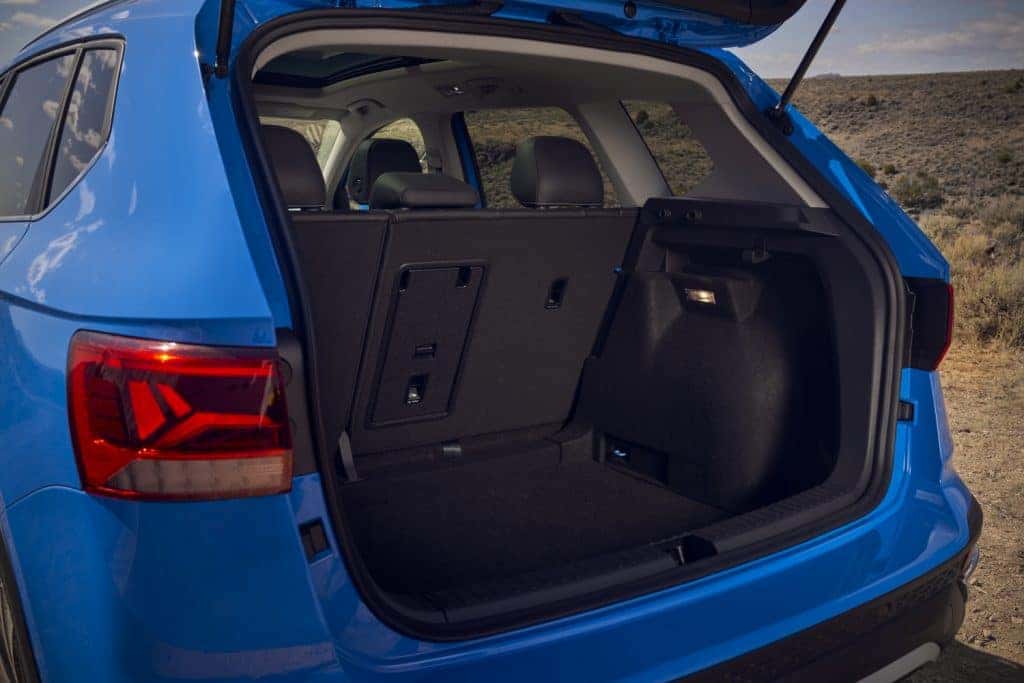 How big is the Volkswagen Taos compared to the Volkswagen Tiguan?
In terms of dimensions, the 2022 Volkswagen Taos sits in the middle of the compact SUV space, while the 2021 Tiguan sits near the top. For specifics on how size, cargo and passenger figures compare, check out the table below!
| | | |
| --- | --- | --- |
| 2022 Volkswagen Taos | Vs. | 2021 Volkswagen Tiguan |
| 175.8 inches | Length | 185.1 inches |
| 72.5 inches | Width | 72.4 inches |
| 64.4 inches | Height | 66.3 inches |
| 105.9 inches | Wheelbase | 109.8 inches |
| 28.1 cubic feet | Cargo Area (behind second-row seats) | Up to 37.6 cubic feet |
| 66.4 cubic feet | Cargo Area (with second row folded down) | 65.7 to 73.5 cubic feet |
| 99.5 cubic feet | Passenger Space | 123.9 cubic feet |
| Five | Seating Capacity | Five or Seven |
What features and technology will be on the 2022 Volkswagen Taos?
We expect features, technology and options on the Taos to be similar to those provided on the Tiguan (the 2022 Tiguan will probably match it more closely in its offerings). As stated above, the main differences between the models are anticipated to be size and price.
Performance of the Volkswagen Taos Vs. Volkswagen Tiguan
Performance and engine figures will also differ between the Taos and Tiguan. However, though the Taos has less engine power, note that it will also be lighter thanks to its smaller size.
| | | |
| --- | --- | --- |
| 2022 Volkswagen Taos | Vs. | 2021 Volkswagen Tiguan |
| Three | Trim Levels | Five |
| 1.5-liter four-cylinder | Engine | 2.0-liter four-cylinder |
| 158 hp | Horsepower | 184 hp |
| 184 pound-feet | Torque | 221 pound-feet |